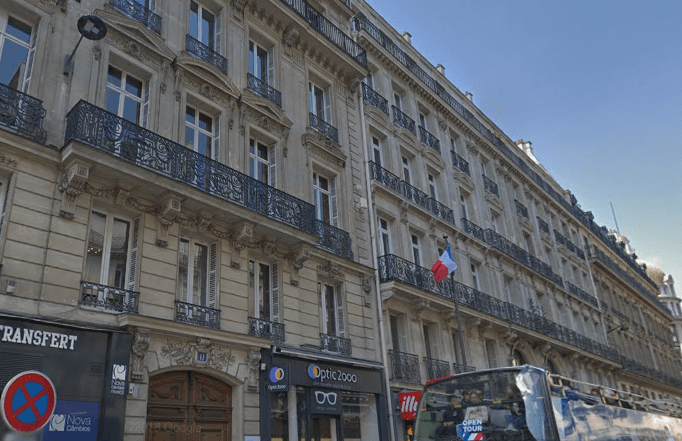 Do you want to rent air-conditioned, divisible and computer-equipped offices in the Opéra district of Paris? Rent shared office space is possible with our offer of opera office rentals.
Equipment:
Auber – Opera Offices
Address: 11 rue Auber, 75009 Paris
---
Transport:
Stations: Havre Caumartin, Opera, Auber, Chaussée of Antin La Fayette
Metro: Lines 3, 7, 8 and 9
RER: Line A
Would you like to have more information or visit one of our offices?
Contact us at 01 83 81 85 90 or fill out the form below.
Location
Our opera offices are in the centre of Paris in a well-served area
Our Opera Business Centre is served by metro and RER: On the metro, your agents and customers can join your offices from the "Havre-Caumartin" station for lines 3 and 9 or the opera station for Lines 3, 7 and 8. In addition, they have the possibility to travel by RER "A" and get off at the station "Auber". The RER "A" registers more than 6 million passengers per year at the station "Auber". The latter is located in the immediate vicinity of our opera offices.
Our Opera offices: a location between financial place, shopping and art centers
In addition to the Palais Brongniart (La Bourse) located not far from the Place de l'opéra, Paris 8 has more than 80 banking agencies. No problem of domicile for credits or withdrawals per card for clients of opera offices.
We offer a rental with a satisfactory office area; Well located in the Triangle Boulevard Haussmann, Gare Saint Lazare and Place de l'opéra. In Paris, the department stores " Le Printemps " and " galeries Lafayette " are not far from Auber Street. Each of them attracts more visitors than the Eiffel Tower!
The Opéra Garnier, the Louis Jouvet Theatre, the Madeleine and the Olympia are also very popular.
Our opera offices are in a stone building with a parking space
In the heart of the Opera district, your future professional premises are in a bright area on the floor of a "stone building" style Haussmann. This type of construction is distinguished by its solidity. On both sides of Auber Street, the Haussmann style buildings have facades built of stone. The height of each building is 6 floors with a key to the balconies from the 2nd floor.
Discover our selection of offices to rent close to our offices Auber – Opéra: